If you have a WordPress website or blog, it is very important to use a fast and professional theme.
Fast and Professional Free WordPress Themes
Of course, new bloggers make this mistake. They use anyone free WordPress theme to create beautiful and attractive blogs.
As a result, the loading speed of their blogs slows down a lot and so does the security of the website.
Because different things depending on the theme of your website.
E.g.,
How fast is the loading speed of the WordPress website

Website security and safety

User experience

Complete design and structure of the blog.

In some cases, the SEO structure of the website.
So, if you are starting to work as a professional blogger, then you must use a good theme for the blog.
Moreover, at present, you do not have to pay a single penny to use a secure, good, and fast-loading WordPress theme.
Because now there are a lot of professional free WordPress themes that anyone can use. And, today I will tell you about some of the best and fastest WordPress themes.
So let us know below about the 7 free WordPress themes that are free, fast, secure, and convenient compared to other premium themes.
But before that, we know briefly why it's important to use a "good WordPress theme."
Why use a good WordPress theme?
See, as I said before, the theme of your website is the identity of the whole website.
Moreover, the speed, design, security, and user experience of the website but depends on the theme.
Here's a look at the top 10 Google search results pages right now. "Your website needs to have a lot of loading speed."
At least, the entire website should be loaded within 2 seconds. And so, using a speed-optimized WordPress theme is extremely important.
Moreover, using any free theme also raises questions about the security of your website.
Because
A simple free WordPress theme does not have all the security features that are essential for the security of a blog site.
As a result, your website may be hacked in the future.
So, you need to use a good, advanced, and professional theme for the security of the WordPress website.
In the end, there is one more fear of using any free theme on the website.
That is Bad effect on website SEO. There are many free themes that allow us to use them without any profit.
And where there is no profit, the theme developer of the theme to think about SEO optimization in the right way or why.
This can lead to problems with the SEO optimization structure of your entire website.
With all these things in mind, I tell you, "Don't use any free themes for WordPress".
There are some SEO-optimized, fast loading, secure, and professional-looking WordPress themes that everyone is using today.
And best of all, these WordPress themes are free.
List of top 7 free WordPress themes
I will also tell you about the loading speed of each of the WordPress themes mentioned below.
I mean, I'll talk about how fast you can get the loading speed of the website using the themes.
So let's get started.
1. GeneratePress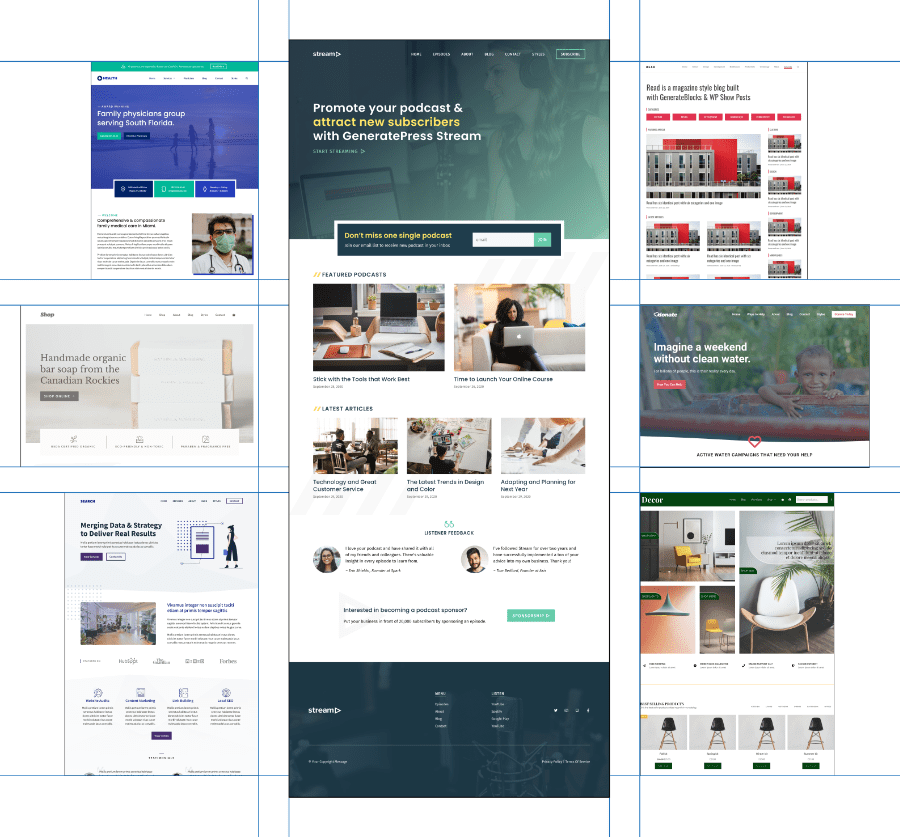 Generatepress WordPress free theme
Website load time: 1.465 s
GeneratePress is the fastest-growing WordPress theme of all time. This theme has been developed by a developer named "Tom Usborne".
In order to speed up the loading of the websites using this theme, clean and lightweight code has been used here.
It is a completely professional WordPress theme with a size of only "30 kb".
Clean and simple design so that the readers of your blog can understand everything in a very clear way.
Beyond loading speed,
The performance, user experience, and SEO structure of this theme are very good. You can use "GeneratePress" to create any type of website.
It is possible to create any type of website using any page builder plugin. Moreover, you will definitely get some advanced and easy customizer options.
You can use this professional, secured, clean, and fast WordPress theme for free.
However, using the GeneratePress premium version, you can take advantage of pre-built demo sites already created.
2. Astra
Astra WordPress theme free
Website load time: 1.123 s
My favorite WordPress theme is "Astra". Plus, I'm using this theme in every one of my WordPress blogs.
Astra WordPress theme is one of the most popular for fast website loading. Because, if you use this theme, your entire blog site will be loaded in just 1.5 seconds.
Moreover, just like the GeneratePress theme, it is possible to create any kind of website or blog using the Astra theme.
When designing a website, we are offered various customizer options. You can create a beautiful website without any design using the pre-built Websites demo.
Here are some common features of the Astra theme:
Layout Settings

Header Options

Colors & Typography options

Blog & Archives design

Fastest loading WordPress theme

Pre-build website design

Secure & clean design

Clean & secure code

SEO optimized
Believe me, once you use this theme, you will not need to use any other theme for a WordPress website.
Thus, the Astra theme is completely free and anyone can download and use it.
However, there is definitely a pro or premium version where we are given a lot of customization options.
3. OceanWP
OceanWP WordPress theme
Website load time: 1.342 s
It is a very lightweight and fast WordPress theme that is currently very popular as the best free WordPress blog theme.
This theme is completely free and here you will see the same features and options as GeneratePress and Astra.
You will be given some free pre-built demo sites, using which it is possible to create a beautiful website in no time.
Thus, OceanWP theme SEO structure, page loading speed, and built quality are all the best.
Moreover, with this WordPress theme, you can create any kind of website.
E.g.,
Portfolio website

Blog

eCommerce website

Company website

News site
Etc., it is possible to create any kind of website through this professional WordPress theme. Any WordPress page builder such as,
Elementor,

Beaver Builder,

Brizy,

Visual Composer,

Divi,

SiteOrigin
Etc., can be used with this modern but free theme. Free demos, free extensions, and sticky header options we are getting in this free theme.
So we can use this theme for free.
However, if you take the premium subscription of OceanWP WordPress theme, you will get "13 premium extensions" and "60 pro demos".
4. Writee
Writee WordPress theme
Website load time: 1.678 s
If you are looking for a great WordPress theme just for blogging, I recommend using the "writee theme".
Because this professional WordPress theme is made for bloggers only.
Beautiful blog design, fast website loading speed, modern and much better optimized this theme.
Writee theme is fully responsive and mobile-friendly.
3 custom widgets, customizer options, full-width/boxed slider, and pixel-perfect design benefits you will find in this theme.
Use this simple and clean theme and blog about your content without any worries. You do not have to worry about the design and user experience of the blog.
This theme has both free and premium versions.
5. Twenty Nineteen
WordPress default theme twenty nineteen
Website load time: 1.212 s
This is the official theme of WordPress which is a very fast and very well coded theme.
Although simple to look at, compared to all other paid or premium themes, this theme is the best.
The default theme of WordPress is "twenty nineteen". You can create any kind of website or blog using this completely free theme.
If you are looking for a lightweight and simple theme, where you want to publish your articles clearly, then use this "Twenty nineteen" theme.
6. Neve
Neve WordPress theme
Website load time: 2.212 s
Neve is a free and super-fast WordPress template that can be easily customized.
You can use this theme for any type of website like blogs, small businesses, startups, agencies, e-commerce shops, etc.
This theme is fully responsive, RTL support, and translation-ready. Moreover, this Neve theme works very well with WordPress block editor.
Pre-built templates, customizer options, and built-in mega menu support.
So, if you are looking for a fast and professional theme in blogging, you can use this Neve theme.
7. Zakra
Zakra responsive WordPress theme
Website load time: 1.410 s
You can get this free theme from ThemeGrill in the WordPress theme directory.
Zakra is very lightweight and if you use this theme your website will load a lot faster. Moreover, here you will find 12 different demos.
This free theme is fully responsive, Gutenberg compatible, SEO friendly, translation ready.
What to look for before using a free WordPress theme?
Using a free theme for blogging is not a bad thing at all.
However, when you are thinking of creating your own website using a free theme, be sure to consider the following.
What others are saying about the theme.

Must be SEO optimized theme.

A responsive theme must be selected.

Don't use free themes from outside the WordPress directory.

The loading speed of the theme must be fast.

After reading the theme rating and review, decide to use the theme.

Blogging should be a clean and simple theme.
Then, after looking at the above-mentioned topics, select a free theme for the WordPress website.
Which free theme can be used?
See, each of the free themes mentioned above is the best and everyone is using it. So, for any type of website, you can use any one of the above-mentioned themes.
Also, if you are talking about the best and professional WordPress theme especially for blogging,
Then I suggest using either "Astra", "OceanWP" or "GeneratePress". When it comes to blogging, these 3 themes are the best.
Because these are the fastest and lots of customization options you will get. Besides, everyone said good things about them.
In creating themes, clean codes have been used and you will get updates from time to time.
Then you understand, "Which WordPress theme to use for blogging?"