Hello friends, One of our everyday apps for smartphone usage is File Manager. Are you looking for the best file manager apps for your Android phone?
In today's articles, we have come up with some of the best Android File Manager applications for Android phones. And you can try these applications once for yourself.
One of the best parts of using Android is the ability to navigate through your device's file system very quickly and easily. But, which file manager app should you use?
Most Android devices come with Google's File Manager. In addition, many smartphone manufacturers also add their file manager apps to their devices.
There are also many third-party options from which you can download your preferred File manager apps.
Today, let's take a look at some of the best file explorers for Android devices that you can use.
7 Best Free File Explorers for Android
1.

X-plore File Manager
To you, the X-plore File Manager app may look like a Windows program from the early 1990s. However, it is one of the best Android file explorers.
You won't find any vision of Google's Material Design here.
Key features of this app are:
The app has a Dual-pane view. It splits the screen and places a file tree on each side.
By doing this you can easily copy files from your folders. This feature is similar to desktop file browsing.
Where under each file other files can be seen from one page. And you must install the app to get this experience.
This design means: that you can easily move files from your device to external storage.
This app supports Google Drive, Amazon cloud drive, Dropbox Box, Onedrive, WebDAV, MediaFire, and many other cloud storage.
You can also explore FTP, SMB, SQLite, 7-Zip, RAR, and DLNA/UPnP with it.
With X-plore File Manager you can explore system files even without rooting your device. Although you can see those files, you can't edit them without rooting the phone.
The app has a Hex viewer. Also, the app has a built-in video, picture, and audio viewer.
2.

Files by Google
Google Files is a file explorer built for Android. Most of the Android devices we use to have this file manager app built-in.
This app has three main features: File browsing, Junk file cleaning, and Old files cleaning.
Besides, this app allows you to share encrypted files and folders with nearby people without an internet connection.
The file management of this app is not as feature-rich as other file manager apps. For example, you can't access root files with it.
However, this app is designed with ease of use in mind. The first interface inside the app is divided into six sections.
Related…
These are Downloads, Images, Videos, Audio, Documents, and Apps.
No matter where these things are stored on your phone, here you can see them all together. As a result, it will be easy to access all the files on your phone.
The Files app also benefits from close integration with the Android operating system. In most cases, low-cost mobile phones have this app built-in.
Because it is much faster than all other file manager apps and all necessary features are available at hand. Even the smartphone you are currently using may also have this app.
3.

FX File Explorer
If you are a bit more privacy conscious, the FX File Explorer app might be one of the best choices for you.
This app is completely free from advertising, tracking, and data collection. This app asks for various security permissions after installation.
But, these permissions will happen even if you don't give them. These are optional and if you allow these permissions, you will get some additional features.
However, your app will work without them.
Although this app has External media and Root capabilities.
But if you want network support (FTP, SFTP, SMB, WebDAV) and cloud storage (Dropbox, Google Drive, SkyDrive, Box, SugarSync) support in this app, you need to pay extra for them.
But this app's features for free will not be a problem for common users like us.
FX File Explorer app has powerful file sharing options. You can share files using a Wi-Fi network or the FX Connect app.
This Connect app works via Wi-Fi Direct; In this case, you don't have to use a Wireless access point.
4.

Solid Explorer File Manager
As I said in the title of this article, this is a list of free apps. But, Solid Explorer File Manager is one of the paid file explorers.
But its subscription is very cheap. This app is very minimal in terms of user interface and features.
It uses a two-pane design similar to the X-plore file manager app discussed above. Unlike X-plore, FX File Explorer adheres to Google's Material design.
For those of you who like to use a little aesthetic and beautiful application, this app can be a good option.
Here each part works as a standalone file browser. You can drag and drop files into it, making it easy to use.
Supports other drives, clients, and formats – eg, FTP, SFTP, ZIP, TAR, WebDav, and RAR. Besides, through the Solid Explorer app, you can set up Google Drive, One-Drive, Box, Dropbox, and other accounts.
Root access to the Solid Explorer app. It also offers Plugins, Indexed searching, and Drive statistics to add more features.
5.

ASTRO File Manager
ASTRO File Manager is not limited to File Explorer like other apps.
Rather, it offers more features than just a file explorer. The app includes a storage cleaner, storage manager, and backup tool.
Features that require us to install separate apps.
However, you must be careful when using storage cleaners. Because it offers very few benefits and may even damage your device.
You can also use any useful app to clean your mobile storage, which is made only for this task.
Besides, the user interface of this app is very clean and easy to use.
And, it is very fast and easy to navigate through the various functions inside this app such as Internal memory, External memory, Podcast, Ringtones, and Downloads options.
And like other apps, this app also has features like Dropbox, Onedrive, Box, Google drive synchronization, Social media cache management, and the ability to access other locations on the same network.
And, apart from great file management through the ASTRO File Manager app, Process management, and microSD card features are particularly noteworthy.
The factors that make the ASTRO File Manager app far ahead of all other competing apps. So, from today you can also use this app once.
6.

Total Commander
Undoubtedly: Total Commander may be very familiar to a desktop user, and it may be very familiar to you too.
Since its release in 1993, this app has become a popular third-party file explorer for Windows computers. And it was previously called Windows Commander.
This app has a huge range of navigation tools beyond the usual Cut, Copy and Paste. For example, it supports Bookmark and File packaging.
It also has the facility to add customized buttons to the toolbar; Through which you can customize this app.
And its features include the ability to copy and move subdirectories.
Also includes a built-in text editor, file sharing facility via Bluetooth, Zip file support, FTP/SFTP clients for plugins, WebDAV, and Lan access.
7.

Amaze File Manager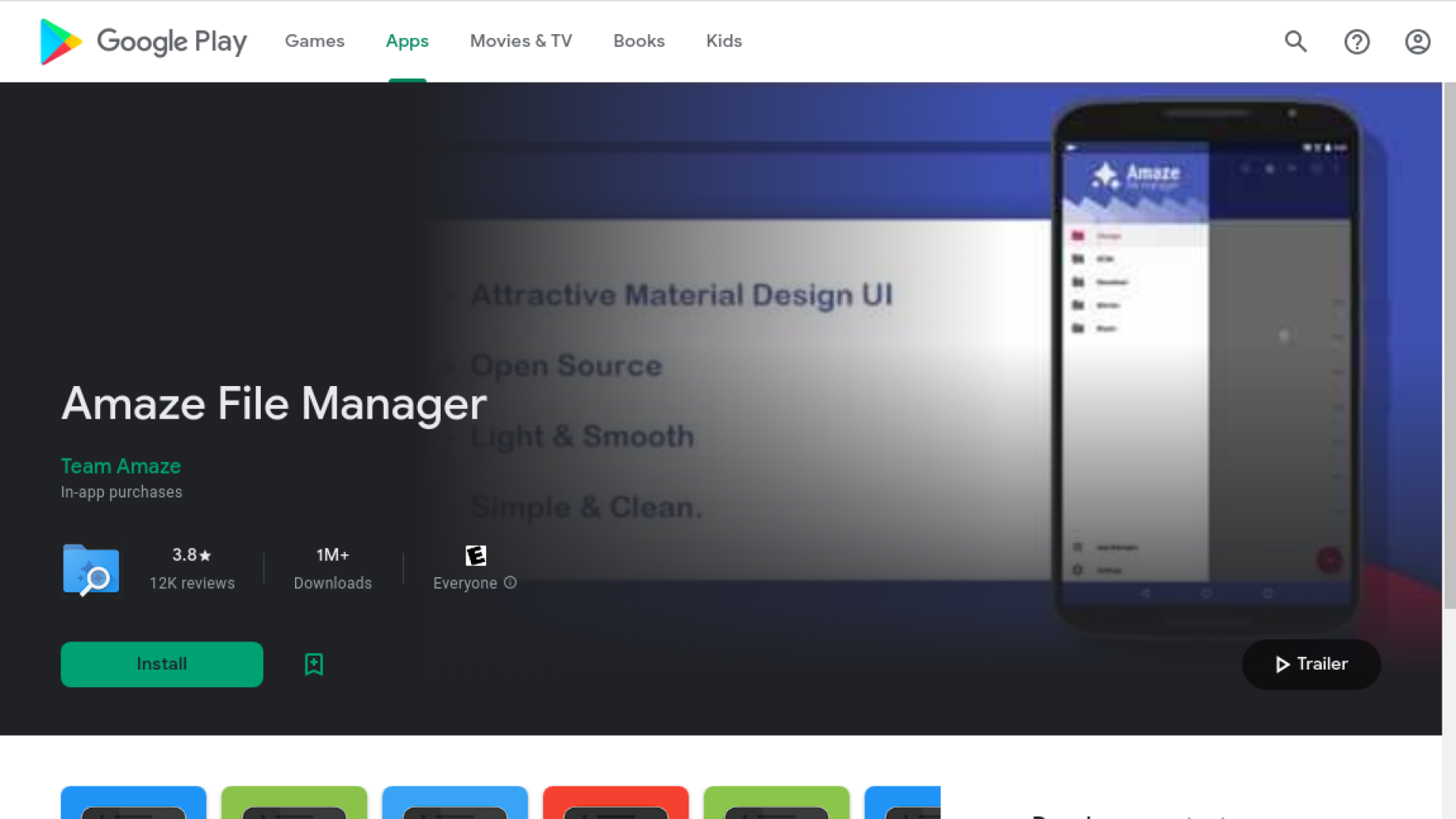 Amaze File Manager is the only open-source Android file explorer on our list today.
This app lets you use a tabbed approach to file management, allowing you to easily work on multiple folders at the same time.
And other features include an App manager, a Root explorer, AES file encryption, History, Bookmarks, and a powerful Searching tool.
Even this app has a built-in Database reader, ZIP reader, APK reader, and Text reader. As a result, you no longer need to download these reader apps from outside.
And the interesting thing is, that this app is completely ad-free.
Also, since the Amaze File Manager app is open source, you can be a little more confident in terms of security. All in all, this app can be the best choice for you.
Conclusion
Nowadays there are many apps or tools for file management on our android devices.
And File Explorer applications are one of them. So, to have the best experience in accessing files on our smartphones, we need a good quality File Explorer. And, the file explorer can fulfill our needs and give us a different experience in browsing files.
And for that purpose, you can try the above file manager or file explorer apps. Apps that make the experience of using your Android smartphone more straightforward and more beautiful.